🔥 Even Heating
⚡ Induction Ready
💪 Durable Stainless Steel
🚫 No Food Sticking
🌟 Elegant Design
🏆 Long-lasting Quality
🔥 Even Heating
⚡ Induction Ready
💪 Durable Stainless Steel
🚫 No Food Sticking
🌟 Elegant Design
🏆 Long-lasting Quality
Regular price
Rs. 1,449.00
Sale price
Rs. 1,449.00
Regular price
Rs. 2,499.00
Unit price
per
View full details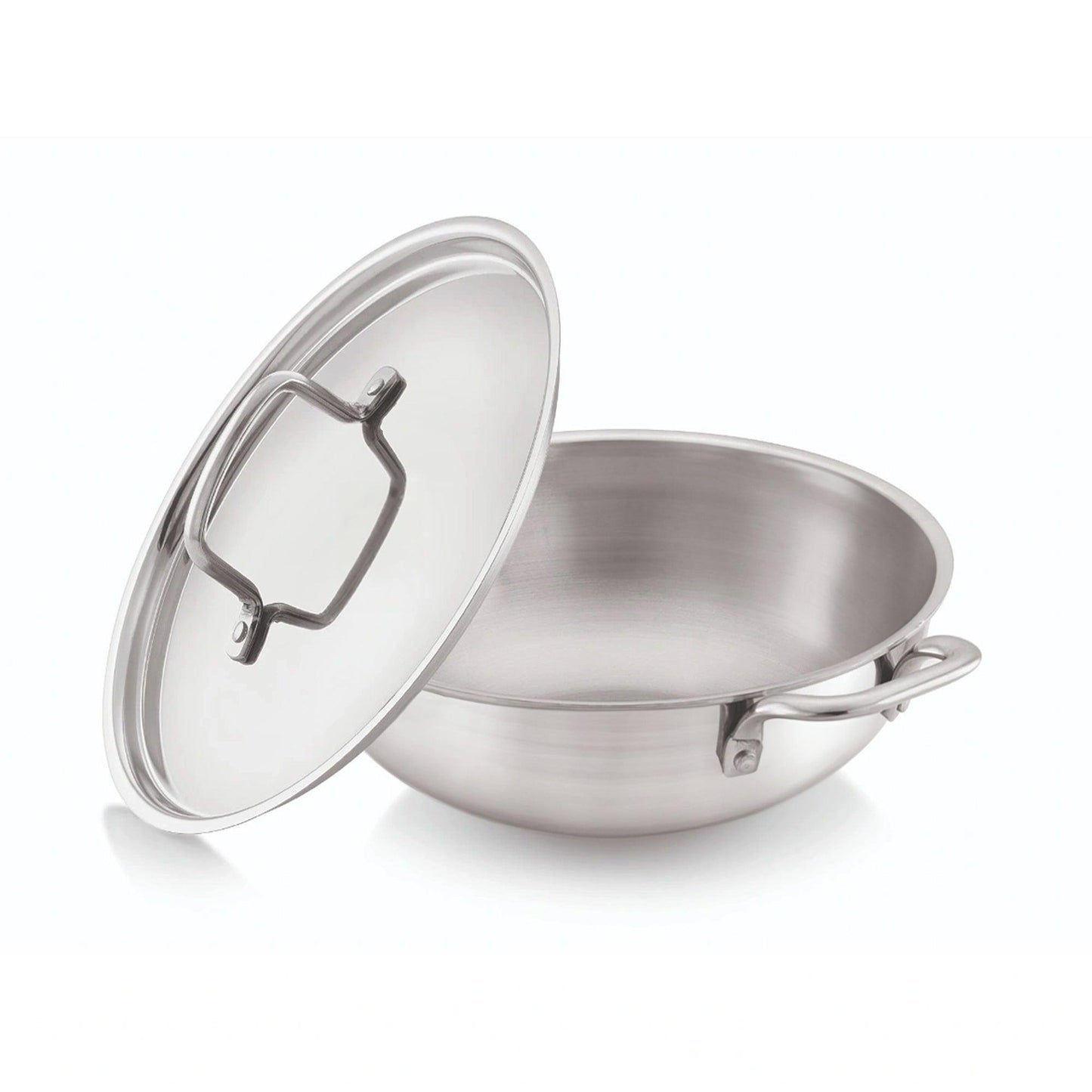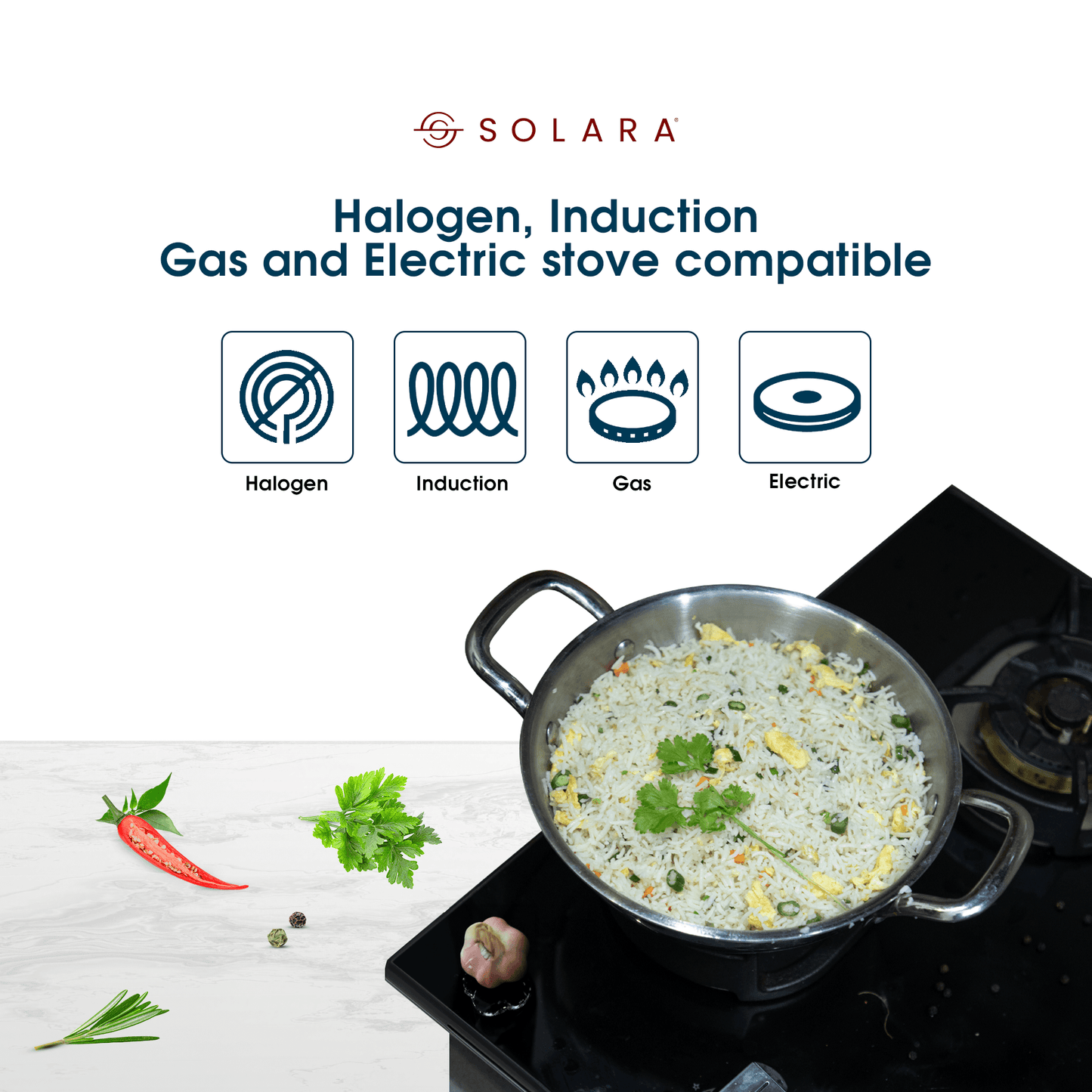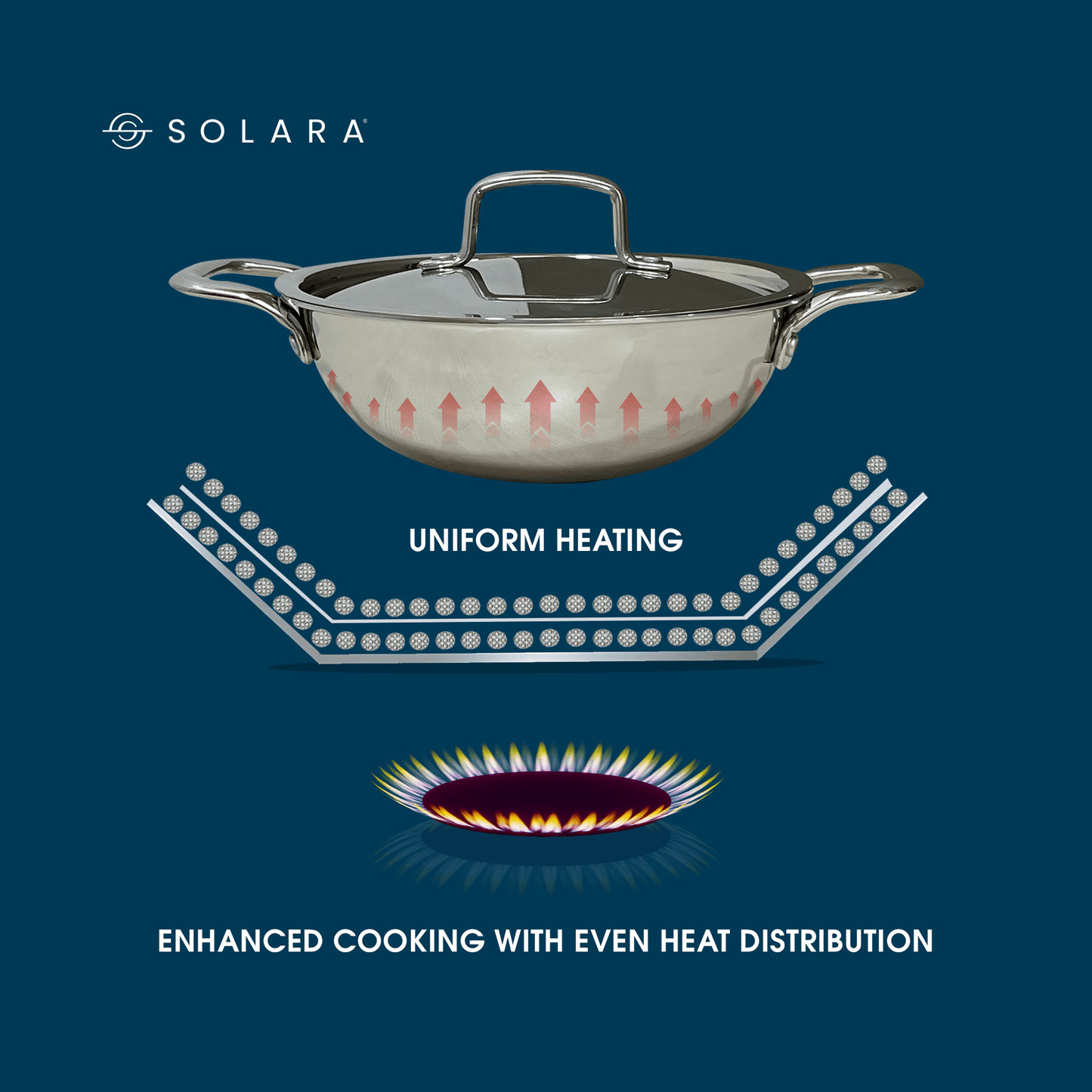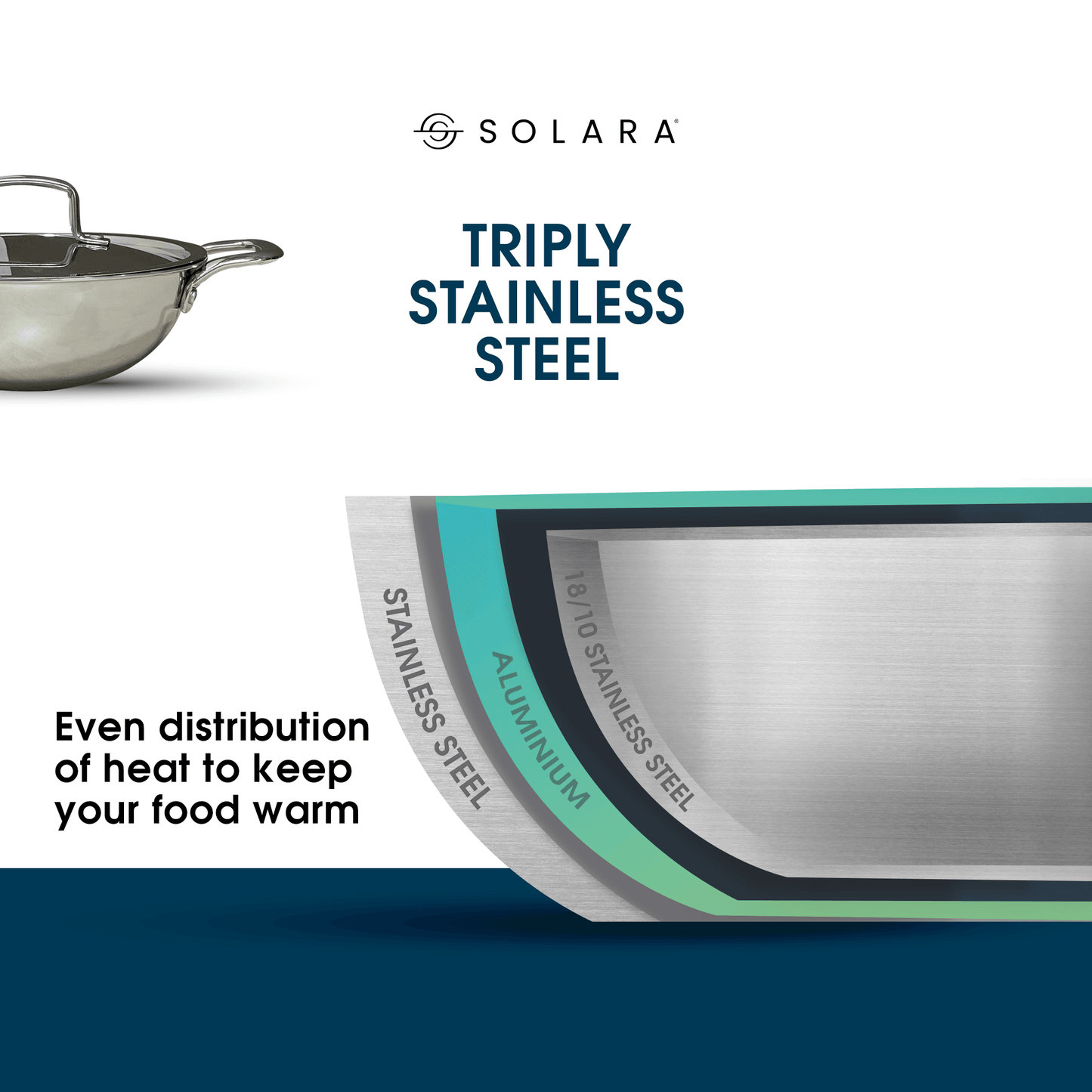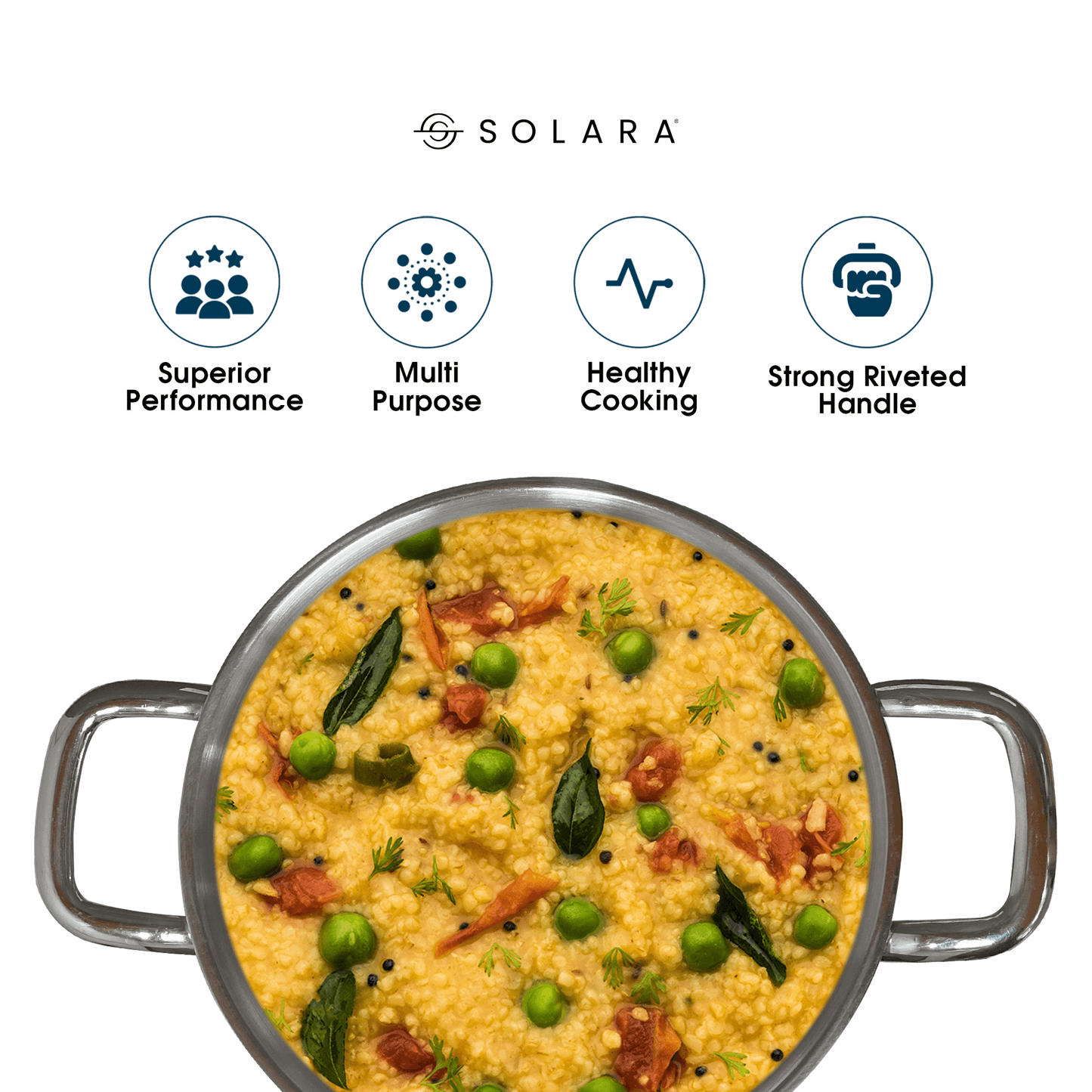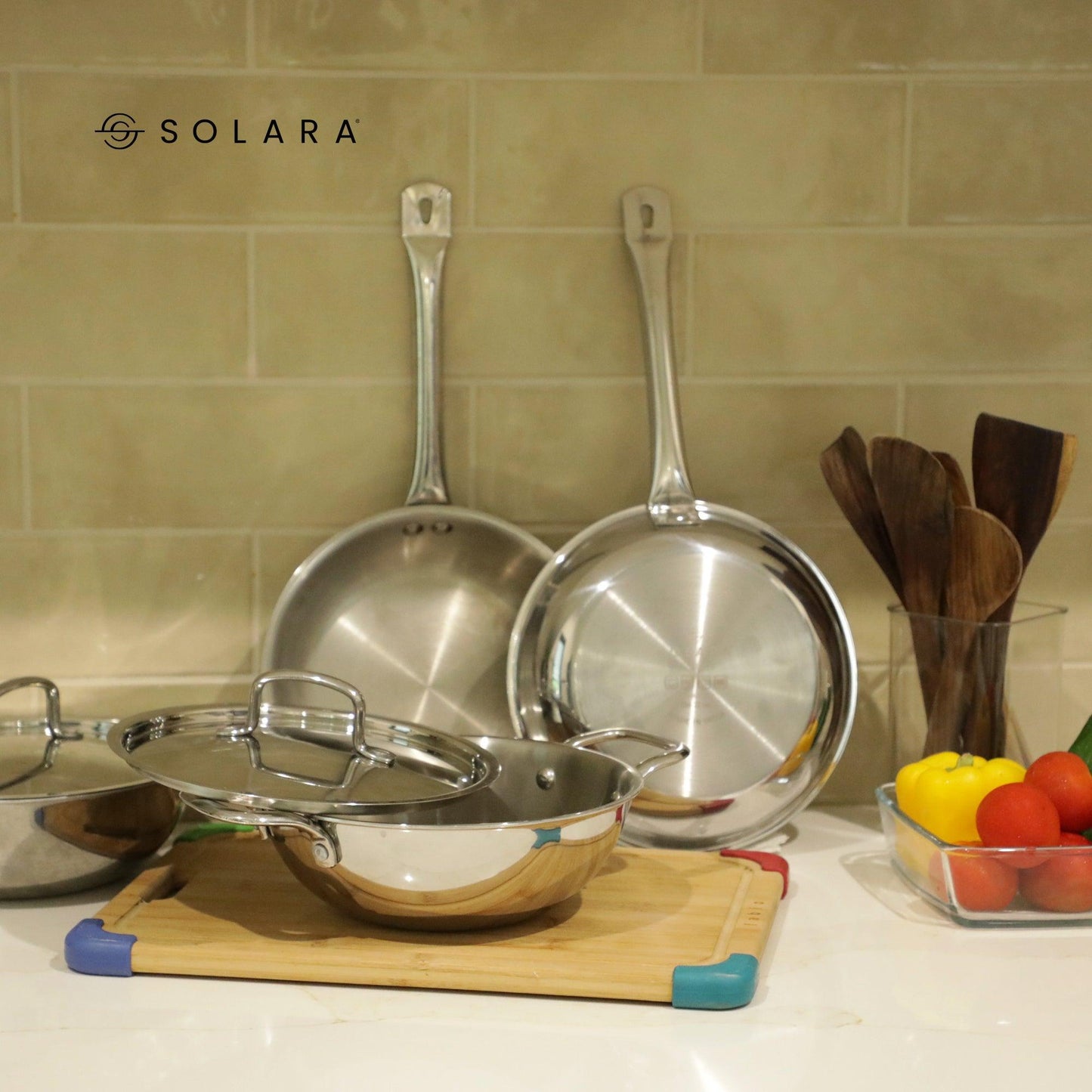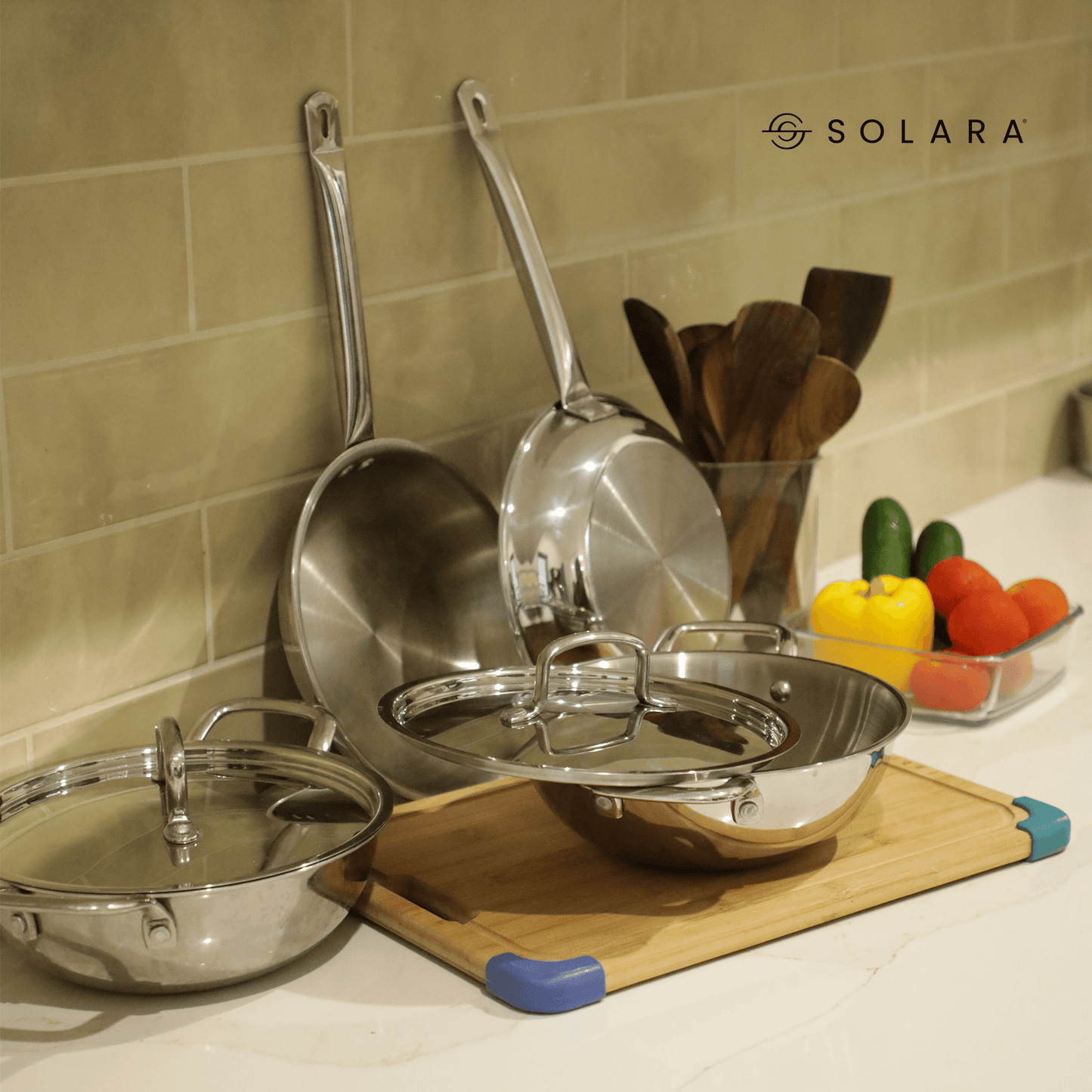 Free Shipping

For all orders over ₹1000
Introducing the SOLARA Premium 22 CM Stainless Steel Kadhai with Lid – the ultimate culinary companion for your kitchen adventures. Crafted to perfection with an array of innovative features, this kadhai redefines cooking convenience and excellence.

Triply Brilliance for Perfect Cooking:
Experience the magic of triply construction as this kadhai transforms your cooking game. Its interior boasts a food-grade rust-free SS 304 stainless steel layer, ensuring both safety and longevity. Beneath this, a robust aluminum core guarantees uniform heat distribution across the kadhai's surface, eradicating hotspots and enabling flawless cooking of your favorite recipes. The outer layer, crafted from induction-friendly SS 430 stainless steel, adds the perfect finishing touch to this culinary masterpiece.

Even Heating, Zero Compromises:
Bid farewell to unevenly cooked meals and burnt ingredients. With its advanced triply design, our kadhai ensures every corner is heated evenly. Delight in perfectly cooked delicacies, free from the fear of sticking or scorching. Revel in the joy of flavors preserved and textures perfected.

Elegance in Every Detail:
A polished stainless steel finish elevates both the aesthetics and functionality of this kadhai. Designed to impress, it's not just a cooking tool but a statement piece for your kitchen. The double-riveted cool stainless steel handle guarantees a secure grip and confident maneuvering, enhancing your culinary experience with safety and comfort.

Built to Endure, Built to Thrive:
Crafted with a substantial 2.5mm thickness, our Triply Kadhai stands as a testament to durability. It's more than a utensil; it's an investment in lasting quality. While it's built to handle the heat, we recommend a low to medium flame setting for optimal results, ensuring your kadhai's longevity and unwavering performance.

Versatility Redefined:
Whether you're a fan of gas stoves or an advocate for induction cooktops, our kadhai seamlessly adapts to your culinary setup. Embrace the freedom to explore various cooking methods, all in the comfort of a single kitchen essential.

Preserving Brilliance:
While our kadhai is built to endure, a little care goes a long way. We recommend handwashing to maintain its impeccable finish and performance over time. Keep the brilliance alive, one delectable meal at a time.

Elevate your cooking with the SOLARA Premium 22 CM Stainless Steel Kadhai with Lid. Embrace innovation, savor perfection, and make every meal a masterpiece. Your culinary journey starts here.

1. Orders will be shipped within 48 hours of orders being placed. Please allow 4-5 business days for delivery, after the order is shipped.

2. Personalised products may take longer to ship.

3. Shipping may take longer due to unforseen circumstances

How can I register a warranty for my product?

Given that we have a wide range of products at SOLARA, please refer to the website for the warranty given on each product. To register and claim for warranty, you can sign up here: https://www.solara.in/pages/product-registration. Once you sign up, you will receive a confirmation email for the same along with eBooks (for certain products).

How/When can I claim warranty for my product?

You can claim for warranty only if you have registered the product for it within a week of receiving the product. 

In case you are facing an issue with your product, please contact us at

support@solara.in

and our team will be happy to address your concern within 48 hours. 

Make sure to include the order information along with a photo and video of the issue. 

Only the damaged part can be replaced and not the full product.

Each product is replaced only once under warranty. 

As with all other brands, wear and tear of the product is not covered in warranty. 

Examples - Yoga mat used with shoes 

Water Bottles - Paint peeling due to rough surfaces, broken due to fall

Air Fryer - Mishandling, High Voltage Issues 

Loss of part of the product 

Above are just illustrative examples and not comprehensive. 

Sole discretion of Warranty processing lies with the SOLARA team. 

Note: Refunds are not processed under warranty, we can only issue a replacement.

| | |
| --- | --- |
| Product  | Warranty Period |
| Mattress | 10 Years |
| Kitchen Appliances | 1 Year |
| Resistance Bands  | Lifetime  |
| Fitness Products | 1 Year |
| Any other product | 1 year |

VIP registration is valid for another 6 months. 
FAQs
Can I choose whichever styles I want?

Yup! Our catalog is always growing as we release new styles regularly! Choose styles to your heart's content!
I like my styles but they don't fit!
How often can I swap out my items?
What if I want to keep my items?